Welcome to the authorized and official web site of the incredible Amiga shareware title Deluxe Galaga by Edgar M. Vigdal.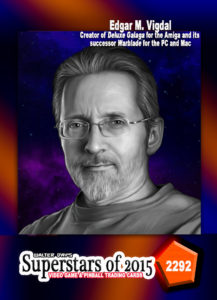 Deluxe Galaga is a Commodore Amiga shoot'em up arcade game first released in 1993. It's loosely based on the smash hit arcade game Galaga. Deluxe Galaga was voted in on the TOP 100 GAMES of all time for the Amiga. It got to #19, all the other games on the list was commercial games, except 1 other; Deluxe PacMan also made by Edgar.
This site contains almost everything you need to get Deluxe Galaga running on your Amiga or PC. We are sure that once you play this fantastic game, you will be as hooked as we all are!
Sadly, Edgar Vigdal passed away on the evening of the 1st April 2015 of cancer. It's been almost 20 years since this official site opened and the game is still a running favorite via emulation and with a PC and iOS version that was dubbed Warblade – a testament to the legacy that he left behind.
Thanks for visiting and feel free to drop us a line anytime.